CCTV systems are a must for all businesses and even high-end homes today. Every SME or commercial or residential establishment needs a cost-effective and efficient surveillance system which can help them monitor better, with simplicity and ease.
Specification
Regulation Functions: Visitor Monitoring and conversation, Inter-household conversation,
connection of wireless telephone (option)
Security: Break-in, Fire, Gas sensor and Alarm, Guard sation.
Convenient Functions: Visitor monitoring recording (option), OSD function.
External House Management: ARS (single product)
CAV-707AM Color House Unit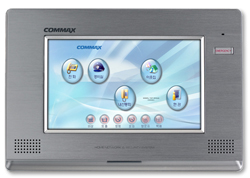 Designed as a full touch screen house unit, the product represents a high-end monitor with its aluminium body and increased protection for occasional screen scratches, the product has not only excelled in style but in durability and safety. The product is also available in silver and black colors.
Features
| | | | |
| --- | --- | --- | --- |
| | | | |
| Germany-based iF Design Award holder: The product has been awarded with the most authoritative among world design awards (such as Red Dot (Germany), IDEA (USA) etc.), Germany-based iF design Award, making Commax products even more competitive in global market. | | | ARS External Control Allows the user to use regular phone line to control domestic appliances, such as gas valve, electric supply etc. from the outside. |
| | | | |
| Connection of wireless phone (Frequency: 1.7GHz) Possibility to have telephonic conenction with a visitor from any spot in the appartment (CAV-707AM/CAV-707AM1). | | | Saving of visitor's image Possibility to record and save visitor's image in case of enabling the 'Away' mode (128 cuts/second) |
| | | | |
| Full touch GUI function Due to integration of GUI function previously available only in Home Network system, the product is much easier in exploitation. | | | |
CAV-700MG Color House Unit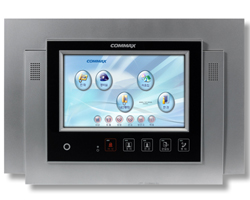 The product responds perfectly to the needs of customers due to adopting the 7" TFT LCD Touch Screen which allows the customer to exercise home automation, security and GUI functions.
Features
| | | | |
| --- | --- | --- | --- |
| | | | |
| Germany-based iF Design Award holder: The product has been awarded with the most authoritative among world design awards (such as Red Dot (Germany), IDEA (USA) etc.), Germany-based iF design Award, making Commax products even more competitive in global market. | | | ARS External Control Allows the user to use regular phone line to control domestic appliances, such as gas valve, electricity usage etc. from the outside. |
| | | | |
| Connection of wireless phone (Frequency: 1.7GHz) Possibility to have telephone conversation with a visitor from anywhere in the appartment (CAV-707MTM). | | | Saving of visitor's imagePossibility to record and save visitor's image in case of enabling the 'Away' mode (128 cuts/second) |
| | | | |
| Full touch GUI function Due to integration of GUI function previously available only in Home Network system, the product si much easier in exploitation. | | | |